Lounging outdoors this time of year is one of my favorite things to do. There is literally nothing better than being able to relax under a gorgeous big umbrella with a yummy refreshment of choice in hand. Look at these absolutely gorgeous spaces, can't you feel the heat of the sun with just the right amount of cool breeze? Can you feel yourself beginning to relax? All the stress of the day melting away like the ice in that previously mentioned cocktail? Ahhhhh - there is nothing better. I'll go as far as saying it's perfection!
PHOTO: BETTER HOMES & GARDENS - ONLINE
PHOTO: ELLE DECOR - APRIL 2012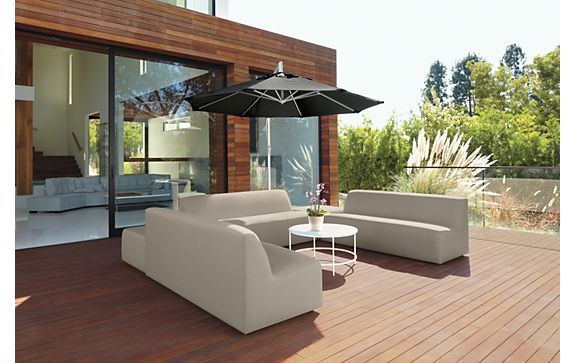 PHOTO: ROOM & BOARD - LAGUNA OUTDOOR SECTIONAL
PHOTO: HOME DEPOT BLOG
Now, back to the real world. I live in Chicago. Not in the suburbs where there may be enough space at hand to build yourself a little corner of outdoor perfection, but in the city where you are lucky to have any outdoor space of your own.
It seems to me that the average outdoor space in Chicago is shared and it's sole purpose is a fire exit. Not too much to work with as far as decorating goes as doing so would basically be a fire hazard! Even though this pic wasn't taken in Chicago, these multi-colored beauties represent a good example of what a real estate agent might describe as 'great outdoor space' in a listing.
J
Now, I'm not complaining. I adore living in the city, wouldn't trade it for the world but as I dreamily gaze at these pictures, I'm thinking there has to be something I can do. I went back to the trusty interwebs to look for some ideas of ways to achieve my lounging goal even though I'm only working with a 5'x8' space (which is actually quite large in my neck of the woods). I found a ton of photos, and even though they looked gorgeous, the same thing was missing from each.... no huge lovely umbrella to park myself under.
PHOTO: APARTMENT THERAPY
The
challenge
in most cases is that the space isn't wide enough for the standard 6' round umbrella and the standard 15" round stand that comes with most simply takes up too much precious floor space. The only option I've seen which I tossed out immediately was one of those 1/2 umbrellas you mount to a wall. No thanks!
Now what is a girl to do, you might ask? Funnily enough, it was reference my own vacation photos. Mr. Squareview and I love to travel, and one of our favorite spots to get away is New Orleans. NOLA holds a special place in our heart and we get there as often as we can. If you've never been, go. It's like a whole other country inside the US. The French Quarter is full of gorgeous wrought iron balconies and on many, you'll find umbrellas (like this photo). After walking up and down the gorgeous streets, I finally began to notice that the umbrellas were actually hanging out past the balcony itself. EUREKA! This is how I can fit a standard 6' umbrella on my 5' balcony!
Now how do I secure it? You can't really see from the photo, but these are secured with your standard zip cords. Great idea, but while the Windy City is a nickname for Chicago that has origins that have nothing to do with the weather, it's still pretty windy here. I had images of my beautiful umbrella taking flight faster than you can say mild gust.
Then Mr. Squareview comes to the rescue! Stay tuned... more on that next time.